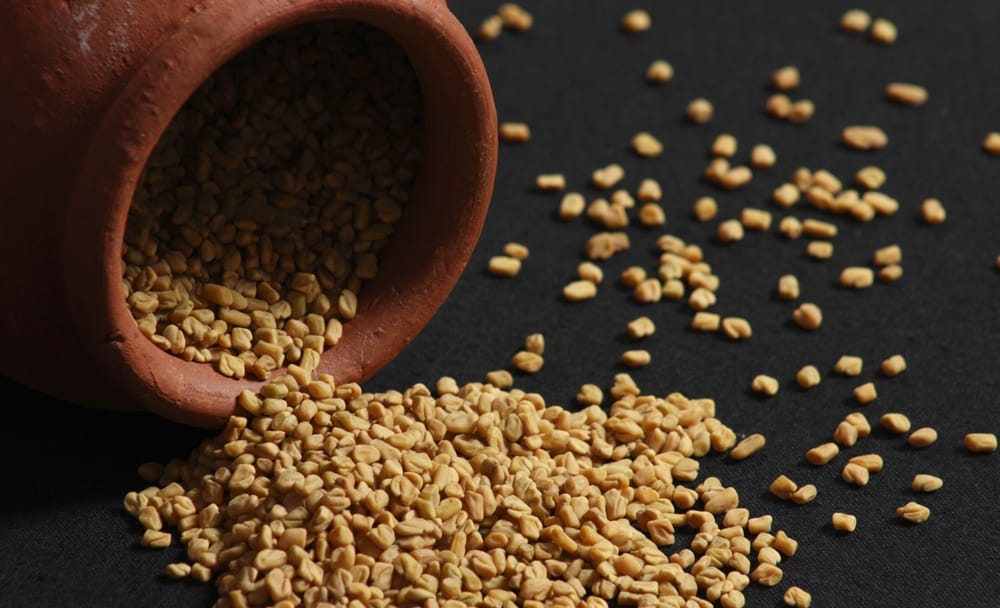 Fenugreek or Trigonella foenum-graecum L. is a warming herb, commonly used as a culinary spice in Indian dishes. This herb has numerous medicinal properties and is known in Ayurveda for pacifying Vata and Kapha Dosha in the body.
According to Ayurveda, fenugreek seeds help manage diabetes, skin disorders, menstrual problems, obesity, gastrointestinal problems etc. However, one of the most noteworthy uses of fenugreek, which often gets overlooked, is improving libido or sexual drive.  
How Does Fenugreek Help Improve Libido?
Testosterone deficiency is one of the leading causes of low libido. Testosterone is a hormone that affects sexual function, energy levels, mood, cognitive functions, etc., in both men and women. Fenugreek supplements contain compounds called furostanolic saponins that help increase testosterone levels in the body, especially in males.
In addition, fenugreek extracts also improve mental alertness and mood, which further help increase libido. 
How to Use Fenugreek to Encourage a Healthy Libido?
Take a tablespoon of fenugreek seeds and saute them in ghee. Eat these seeds with a glass of warm milk before bedtime. This home remedy will help improve strength, energy, stamina and libido in your body as well as enhance your reproductive system. 
Apart from this, you can also use fenugreek seeds in your food as a spice or have a cup of fenugreek tea once a day. 
Other Benefits and Uses of Fenugreek
Fenugreek helps increase breast milk production and improve lactation in new mothers. 

It helps reduce high blood sugar levels and stimulate insulin production, thereby aiding in diabetes management. 

The anti-inflammatory compounds found in fenugreek seeds help reduce chronic inflammation and prevent inflammatory conditions such as asthma.

Fenugreek also helps reduce total cholesterol labels in the body, and prevent health conditions such as heart diseases and type 2 diabetes. 

It is also imbued with anticancer properties that help kill certain cancer cells, such as lymphoma and breast cancer cells.  
Side Effects of Fenugreek
Fenugreek is usually safe for everyone. However, people facing nasal bleeding or menstrual problems should avoid consuming this herb. Excessive consumption of fenugreek seeds is also not beneficial in pregnancy. Pregnant women may take fenugreek in small doses after consulting a doctor.
The Final Takeaway
Fenugreek has been recommended by Ayurveda for thousands of years for many sexual problems. It is a highly effective herb in increasing testosterone levels in the body and improving libido, especially in males. Fenugreek seeds and extracts are also known for many other health benefits such as regulating blood sugar levels, preventing cancer, etc.