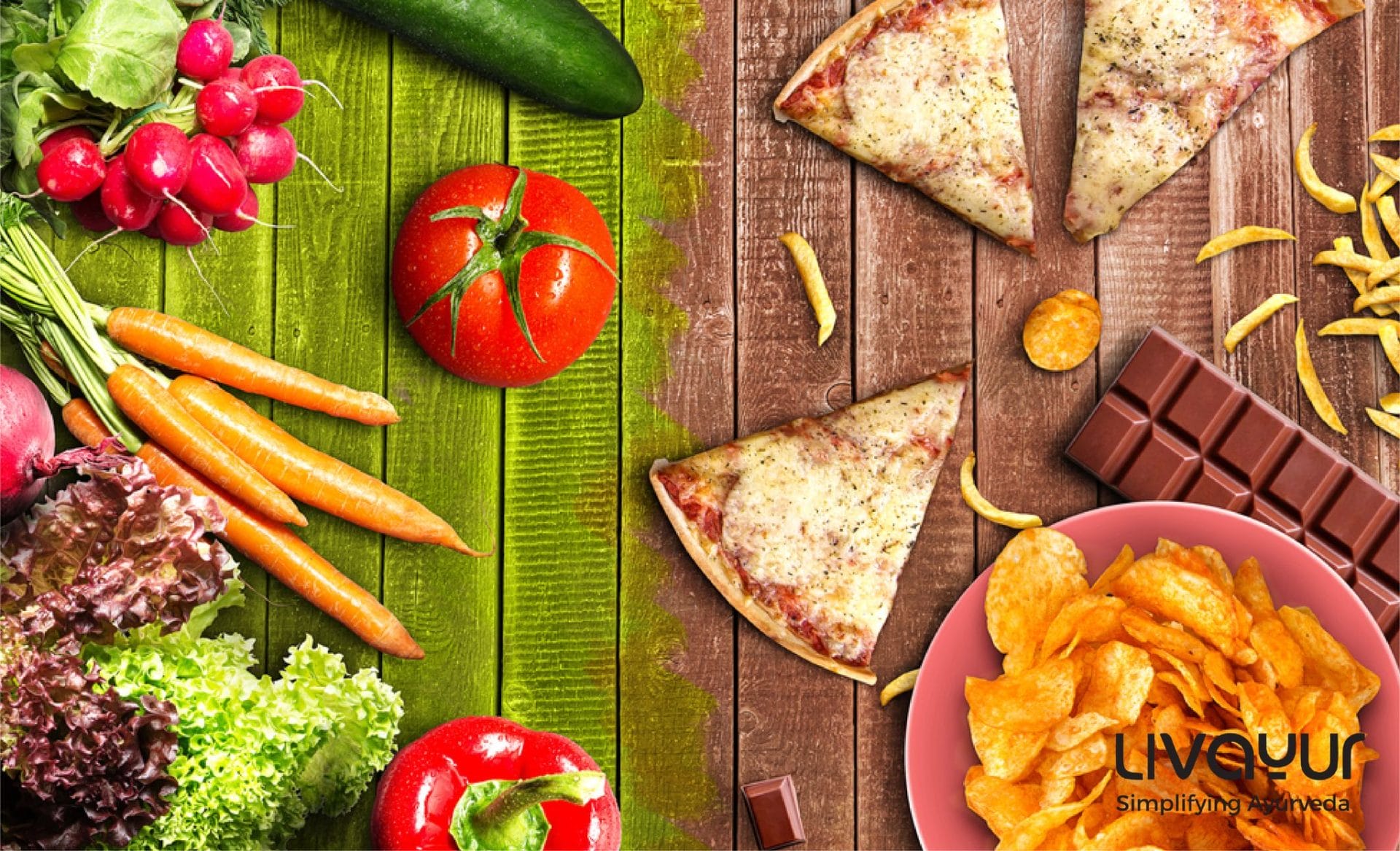 Liver Cirrhosis in Ayurveda
Liver Cirrhosis is a liver condition commonly known as 'Yakrit Kshaya' in Ayurveda. Liver cirrhosis is the end stage of many chronic liver diseases.[1]
A late stage of liver scarring (fibrosis) brought on by a variety of liver diseases and disorders, including hepatitis and chronic alcoholism, is known as liver cirrhosis. Your liver strives to heal itself whenever it suffers damage. Scar tissue is created as a result. Growing amounts of scar tissue complicate the liver's ability to function as cirrhosis worsens.
Liver Cirrhosis is the final stage of many liver problems, one of those being fatty liver which has become a prevalent issue, even among youth, nowadays. However, it's possible to stop or postpone further liver problems and damage with early diagnosis and treatment. Recent clinical data suggests that cirrhosis may revert, or at least improve, histologically, if one can simply put a stop to the lifestyle choices that lead to liver injury.[2]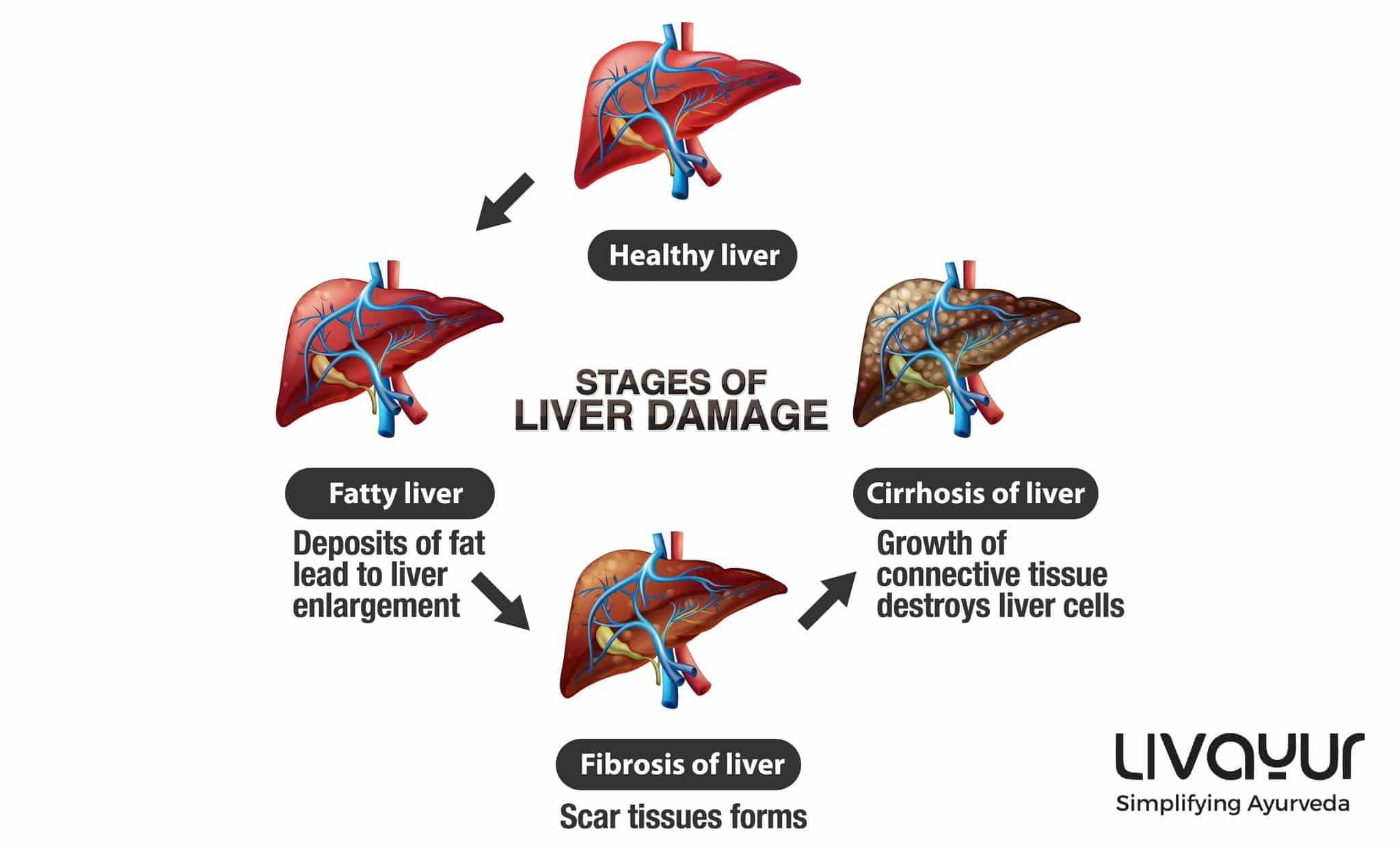 Ayurvedic Relevance
For liver problems, more than 50% of individuals in our nation use Ayurveda and herbal remedies. Ayurvedic therapy may hold great promise for delaying the need for liver transplants, improving the quality of life for cirrhotic patients, and lowering the overall cost of treating chronic liver illnesses. [3] Ayurveda, possibly more so than other medical specialties, has one more promising treatment for people with liver cirrhosis, and that is Liver Cirrhosis Diet – A diet regimen specific to Cirrhotic patients.
Yakrit Kshaya (Liver Cirrhosis) is associated with vitiated Agni (digestive power), production of Ama (Undigested food) and Anuloma and Pratilomakshyaya (forward and backward depletion of Dhatu). [4] If put simply, we can interpret it as a failure of the digestive system and scarring of healthy liver tissues due to multiple incidents of liver injuries. The natural question arises, how can we stop this from happening with the help of a simple diet change?
Although there is no known cure for cirrhosis, patients with the disease can significantly reduce their symptom burden and enhance their quality of life by following a straightforward and balanced diet.
Benefits of Diet Plan for Liver Cirrhosis Patient
Here's how making necessary changes to the diet plan for Liver Cirrhosis Patient could be beneficial:
Sodium Intake Reduction: Cirrhosis can cause fluid retention and swelling in the legs and abdomen. Ascites, or the buildup of fluid in the abdomen, and edema, or swelling, are consequences that can be prevented by consuming less sodium (salt). Limiting water intake, sour and salty foods, and quick food is essential for the treatment's success because these items cause Ama. One can understand 'Ama' in ayurveda as the toxins, undigested food or metabolic waste in the human body.[4]
Limiting Protein: The liver may have trouble digesting protein in severe cirrhosis. Reducing protein consumption, especially that from red meat, can help with the symptoms and stop the body from accumulating toxins. However, this doesn't mean that you shouldn't take protein at all. Protein, when taken in moderation or as per your doctor's prescription, will definitely help you get better in case of a cirrhosis.
Selecting High-Quality Proteins: Patients are frequently advised to consume high-quality proteins such as lean meats, poultry, fish, eggs, and plant-based sources like beans and tofu rather than completely avoiding them. The liver can process these proteins more readily.[5]
Eating Smaller, More Regular Meals: The liver can handle nutrients more easily when you eat smaller, more frequent meals throughout the day as opposed to three large ones. Patients with Yakrit Kshaya should have tiny meals (snax, micro meal) six to eight times per day because their Agni is low to very low. A mid-night meal can help to slow down protein breakdown. [4]
Avoiding Alcohol: People with cirrhosis must fully cut out alcohol from their diet because it can accelerate liver disease. There is absolutely no place for alcohol in a diet plan for Liver Cirrhosis. [6]
Managing Nutritional Deficiencies: Nutritional deficiencies can be brought on by cirrhosis. For vitamins and minerals including zinc, vitamin B12, and vitamin D, patients may need supplements. [7]
Maintaining a Healthy Weight: For people with cirrhosis who are overweight, decreasing extra weight can improve general health and lessen the strain on the liver.
Avoiding Raw Seafood: Due to the danger of bacterial infections, which can be particularly damaging for people with cirrhosis and reduced liver function, patients with cirrhosis are frequently advised to avoid raw seafood.
Fluid Monitoring: Patients with ascites may need to have their fluid intake limited. Keeping an eye on your fluid consumption might aid in preventing fluid retention.
Consult a Registered Dietitian: Depending on the extent of cirrhosis and other unique circumstances, each patient's nutritional requirements can change. Consulting a certified dietician is the best way to go, in these cases.
Lean Proteins: Beans and Pulses, such as lentils, kidney beans, lean meat such as turkey, chicken, or lean cuts of any meat.
Dairy Products: Egg, cheese, skimmed milk, cottage cheese etc.
Nuts such as walnuts, pistachios, almonds, hazelnuts, chestnuts and peanuts.
Fruits, vegetables, whole grain breads, rice and cereals.
Nourishing drinks like homemade milkshakes, complan etc.
Starchy carbohydrates such as cereal, porridge, rice pudding or shortbread.
Salty foods, canned juices, sour/acidic drinks like soda, coke etc.
Alcohol. Even a sip of alcohol is harmful for a cirrhotic patient.
Fried food. Use healthier oil to cook your food in, such as Olive oil, Mustard oil etc.
Check food labels – anything with more than 1.5g salt per 100g (or 0.6g sodium) is high in salt. Don't consume those food items.
Uncooked/undercooked meat, seafood.
FAQs
1. Which proteins are better for Cirrhotic patients with brain fog?
Diet for Liver Cirrhosis patients with brain fog should be like this –
-Take as much of your protein from vegetable sources as possible. Vegetable protein is better tolerated than dairy or meat. Try lentils, beans, peas, nuts, oatmeal, wild rice, and soybean products such as soy milk, tofu and edamame.
Choose dairy sources of protein such as eggs and cheese over meat sources. Dairy can be better tolerated than protein from meat sources. Fish and poultry are better sources than red meat. [5]
2. How should underweight people manage their meals throughout the day in case of Liver Cirrhosis?
-If you are underweight or malnourished then you will need to increase the amount of energy and protein you eat even more. For the patients with cirrhosis of the liver, a low sodium diet is recommended. Regular snacking can top them up. There are also a number of high protein supplements that your dietitian may recommend and your doctor can prescribe.[5] They should follow the style of eating more commonly referred to as grazing.
Conclusion:
A customized diet is essential for managing liver cirrhosis since it improves quality of life and reduces symptoms. Ayurveda, which refers to liver cirrhosis as "Yakrit Kshaya," places a b emphasis on the need of treating poor digestion and the buildup of undigested food (ama). Strategic dietary changes or having a customized liver cirrhosis diet plan will have a big impact on how the disease develops.
It is crucial to moderate protein intake, especially that from red meat, as it promotes effective nutrition processing and reduces fluid retention. It is advised to choose high-quality proteins including lean meats, fish, beans, and tofu. Smaller, more frequent meals encourage improved nutrient absorption, especially for those with weakened digestive systems. Because alcohol might worsen liver disease, it must be completely avoided. It's crucial to treat dietary deficits using vitamins.
Consulting a registered dietitian ensures personalized nutrition plans. Recommended foods in a Liver Cirrhosis diet chart includes lean proteins, dairy, nuts, fruits, vegetables, whole grains, and nourishing beverages. Avoiding salty foods, canned juices, sour drinks, alcohol, fried items, and undercooked meat or seafood is crucial. By adhering to these principles and embracing a balanced lifestyle, individuals can significantly enhance overall well-being, potentially supporting the body's natural healing processes.
Disclaimer: The information provided in this blog is for educational purposes only and should not be considered medical advice. Please consult with a qualified healthcare professional before making any dietary changes based on this article.
References: