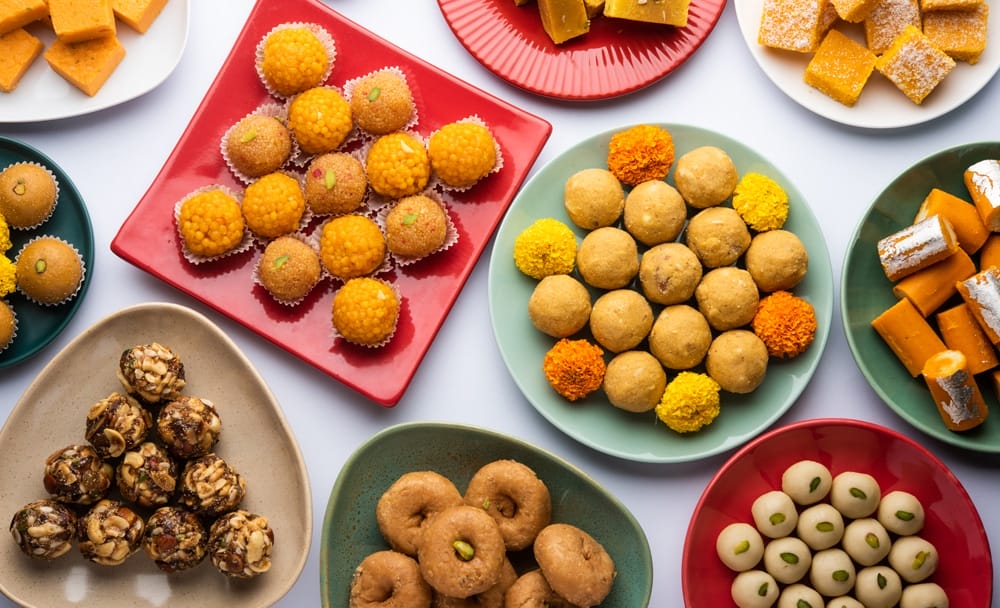 Besides the assorted range of vibrant colours that we love to be immersed with, there is an equally mesmerising range of lip-smacking delicacies that are unique to Holi. Every year, there is a heightened enthusiasm to get totally drenched in coloured water as well as devour some of the most scrumptious delicacies that are characteristic to this festival of colours.
Therefore, as you prepare yourself to celebrate this festival with gulaal, water guns, singing, and dancing, note down these Holi snack recipes to make this festival truly special. 
This Holi, eat and drink to your heart's content. These Holi sweets and snacks recipes will leave you drooling, whether it is an intimate affair or an elaborate, lavish gala.
So, let's dig in.
Gujiyas
Without a shadow of doubt, gujiyas are star sweet of Holi. Native to the state of Rajasthan, gujiyas are essentially sweet dumplings made of maida or refined flour and filled with a delectable mixture of dry fruits and khoya. So, let's see how to prepare them.
Ingredients
For the Dough
Refined flour (2 cups)

Clarified butter (1 cup)

Water (to mix)
For the Filling
Khoya (1 cup)

Sugar (1 cup)

Powdered green cardamom (1 tsp)

Finely chopped almonds (1 tbsp)

Ghee (to deep-fry)
For the Syrup
Sugar (1 cup)

Water (1 cup)
Instructions
To Prepare The Dough
Rub one-fourth cup ghee into the refined flour and knead it to a stiff dough with the help of some water.

Leave the dough to rest for approximately half an hour.
To Prepare The Filling
Sauté khoya over a medium heat until it is slightly fried.

Take it off the heat and after it cools, mix in the sugar, almonds, and cardamom.

Shape the fillings into ovals of 21 cm in length and 1 cm in thickness

Prepare balls of the dough and roll out into thick rounds of 1 cm / one-eighth inch.

Take each round, wet the edges with the help of water, and place a portion of filling over one half.

Fold over the other half and press the edges together for a complete seal.

You may cut off the edge with the use of a cutter or prepare a design by pinching and twisting all along the edges.

Prepare all gujiyas in this way. Heat ghee in a kadahi. Once the ghee has become hot enough, add as many gujiyas to the kadhai as they fit comfortably.

Turn each gujiya over and lower the heat to medium. Fry until all gujiyas are golden brown. Remove each one and place on absorbent paper to drain off excessive ghee.

Prepare sugar syrup by cooking water with sugar, until one-thread consistency.

Dip each gujiya in it, lift it, and let it dry on a plate.

Fry the remaining few, increasing the heat for a few seconds before adding in the next batch.

Gujiyas can be eaten hot or alternatively at room temperature. Moreover, they can be stored in air-tight containers.

This is one of the Holi snacks that can be relished and enjoyed year after year.
Thandai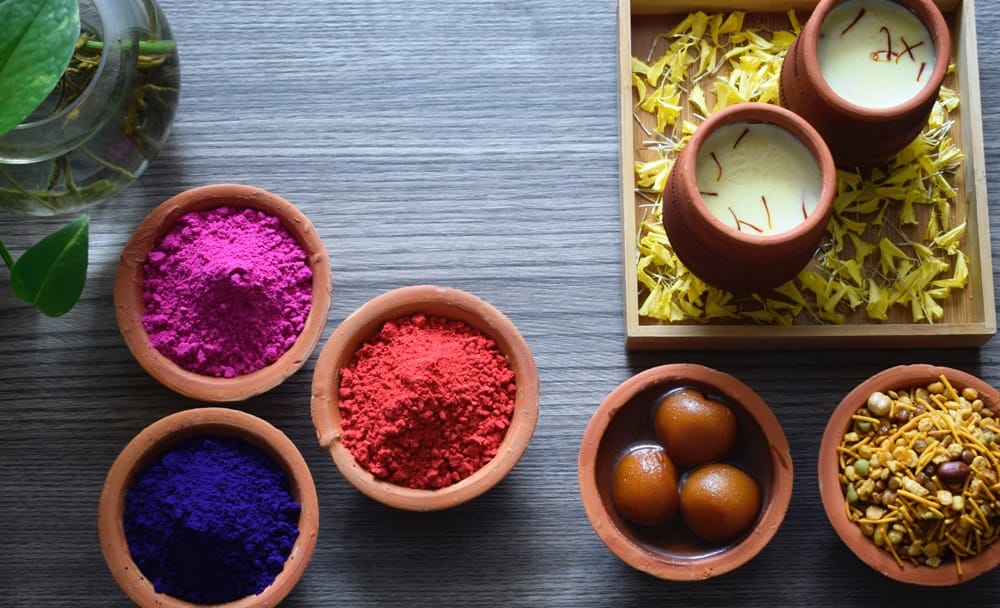 This extremely popular Holi staple is essentially a fennel-fragrant concoction that naturally cools down the body. Welcome your guests to the aroma of this traditional blend. You can prepare it in advance, store it, and serve when the need arises.
Ingredients
Seeds of green cardamoms (10 nos.)
Black peppercorns (1/2 tsp)
Coriander seeds (1/2 tsp)
Sunflower/Melon seeds (1 tsp)
Skinned almonds (50 grams)
Instructions
Roast all spices lightly on a tawa.
Soak all ingredients in sufficient water (except milk).
Set aside for a couple of hours and then grind into a fine paste.
Strain the liquid with the help of a muslin cloth.

Decorate with the help of rose petals and serve chilled.
Bhaang Ki Pakori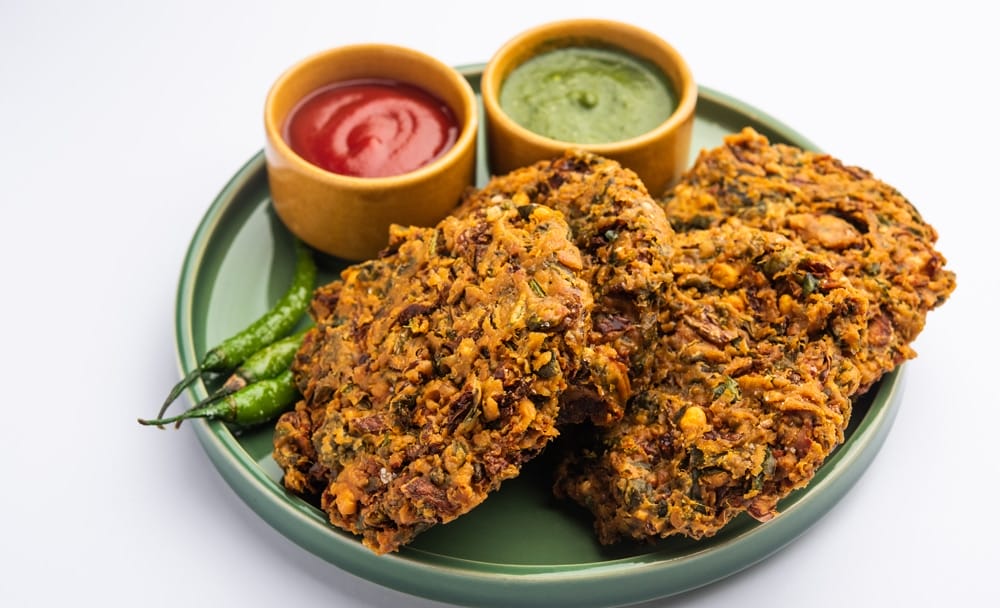 These crunchy onion and potato pakoras are dipped in a chickpea-flour batter that is induced with a hint of bhaang (which are cannabis leaves). This is one of the most popular snacks for Holi.
Ingredients
For The Batter
Chickpea flour (1 cup)

Salt (2 tsp)

Turmeric (1/2 tsp)

Chilli powder (1/2 tsp)

Mango powder water (1 tsp)

Cannabis leaves (Ground to a smooth paste) (1 tsp)
For The Pakoras
A wide range of vegetable pieces (optional)

Onions (sliced into thin rounds) (125 grams)

Potatoes (sliced into thin rounds) (125 grams)

Oil (for deep-frying)
Instructions
Prepare a batter of dropping consistency with all batter-making ingredients.
Mix in the potatoes and onions into the batter and add in the smooth paste of ground cannabis.
Heat oil in a kadahi until sufficiently hot.
Gently scoop the vegetable pieces out of the batter and drop them into the hot oil.
Fry over a medium heat, until a light brown colour is obtained.
Remove each pakora from the oil with the help of a slotted spoon and then set aside.
Continue the process until all the potatoes and onions are used up.
When it is time for serving, heat the oil again and fry all the pakoras over a high heat until a golden-brown colour is obtained.
Remove pakoras from oil, drain on absorbent paper, and serve with some green chutney.
On A Final Note
Holi is a festival of colours and a day to revel in the fun and frolic. That said, it is also a time to relish some delicious Holi snacks, which are an integral part of the festival. Three classic snacks and drinks include gujiyas, thandai, and bhaang ki pakora. Besides being easy to prepare, each of these food items score high on taste. Therefore, just indulge!