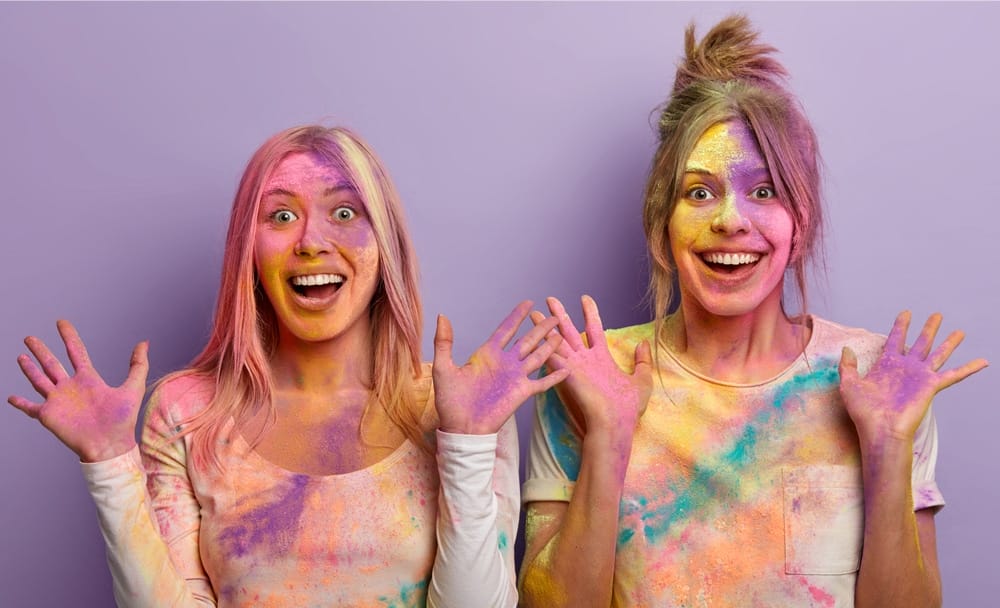 Holi, the festival of colours, is one of the most celebrated festivals of India. It is the day when people across communities throw colours and Gulal on each other to share joy and happiness. However, nowadays people have started getting extremely worried about these colours. 
The reason is that in ancient India, people used colourful herbs and pastes, such as yellow turmeric, red Kumkum, etc., but now the Holi colours are usually made with chemicals like lead oxide, copper sulphate and mercury sulphate. These chemicals can penetrate the top layers of your skin and cause damage. They can also lead to many skin disorders, such as rashes, acne, etc. 
To prevent such skin disorders and help you enjoy this festival with the same old zeal and enthusiasm, here are some tips based on Ayurvedic knowledge of skincare and skin diseases. 
Skin Care Tips Before you Begin your Holi Celebrations
Rich in vitamin E, almond oil helps to nourish the skin and form a protective layer between the skin and the colours. In addition, it also helps to prevent colours from sticking to your skin, thereby making it easier to wash them off after the celebration. Therefore, before you get drenched in Holi colours, take some generous amount of almond oil and apply it to your body and face. 
Before applying oil, you can also rub some ice cubes on your skin. If rubbing ice cubes on the entire body is not possible, you can only massage your face with it for 5-10 minutes. It will help close the open pores, ensuring that the oil you apply afterwards stays on the top layer of the skin. This skin care tip for Holi is also effective in preventing acne after the celebration.  
While you use oil for your face and body, don't forget to protect your lips. The best way to protect your lips from harmful chemicals of Holi colours and keep them moisturised throughout the celebration is Ghee. Apply a generous amount of Ghee on your lips, neck, back of the ears and between fingers.
Keep your body and skin hydrated with water. It will help you beat alcohol, heat and Holi colours while preventing dry and dehydrated skin. You can start by drinking a few glasses of water before the celebration and then keep sipping water throughout the day. 
There may be numerous ways to prevent your skin from the chemicals of Holi colours, but the best way is to stop using these toxic chemicals altogether. Avoid these chemical colours and use natural and organic Holi colours to protect your skin and environment.  
If you already have any skin disorders or allergies, it is recommended to consult a dermatologist before playing with Holi colours. They will help you with all the precautions specific to your condition and prevent the worsening of your skin problem.  
Skin Care Tips for After-Holi Celebrations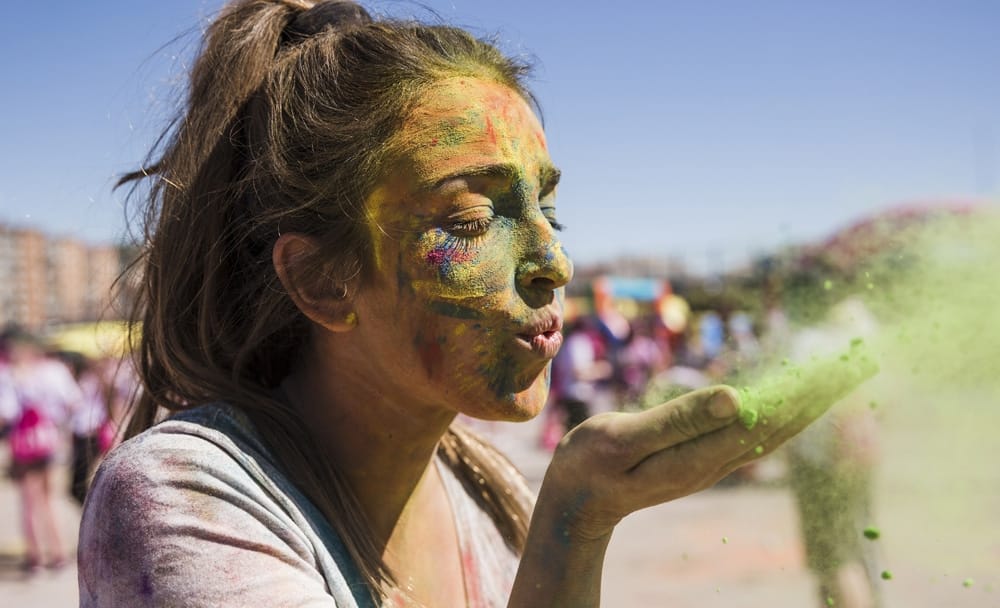 Prepare an Ayurvedic Ubtan or paste using two tablespoons of gram flour, three tablespoons of yoghurt or curd and two teaspoons of honey. Apply this paste to your body and leave it for 15 minutes. Later, rub or massage your skin to remove colours. This skin care tip for Holi will not only help you remove colours but also cool and moisturise your skin. 
Use Cold Rose Water/Aloe Vera Gel
 Apply cold rose water or aloe vera gel on your skin after removing colours. It helps to reduce inflammation and prevent rashes and acne breakouts.   
The Final Takeaway
Holi heralds the arrival of spring and is, therefore, celebrated with much vigour and fervour all across the globe. Do not stop celebrating this festival because of skin problems. Use natural and organic colours and follow the above-mentioned skincare tips to make your Holi even more colourful.